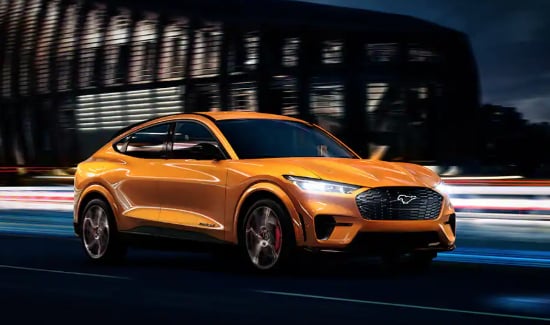 A new kind of Mustang is heading towards you.

The 2021 Ford Mustang Mach-E isn't just your ordinary SUV. It happens to be the first Ford SUV that is powered exclusively by electricity. Recently, additional details regarding the new electric crossover have been released. Here is what we have learned so far:

Pricing

Certainly one of the more important questions is the cost of the Mach-E. The Mach-E Select has an MSRP of $43,985 followed by the Mach-E Premium, which starts at $50,000. The higher-end trims, the Mach-E California Route 1, Mach-E GT, and the Mach-E First Edition, go from $51,800 to $60,500.

Charging Your Mach-E

According to Cars.com, there are several ways to charge your Mach-E, including home charging and public charging stations. Ford has launched the FordPass Charging Network of Level 2 and DC fast-charge stations, which currently lists 12,000 locations. Using a DC fast charger from FordPass Charging Network partner Electrify America, you can charge a Mach-E from 10% of its battery capacity to 80% in just 45 minutes.

Ford includes a mobile charging cable with every Mustang Mach-E. It works at home and on the go using 120 and 240-volt outlets.

New SYNC 4 Infotainment System

Inside the Mach-E, you will find the latest version of Ford's SYNC infotainment system. A large central touchscreen is one of the main focal points and can be found in the center of the SUV. The screen controls the vehicle's primary functions and is supplemented by a second screen in front of the driver that displays the speed and available range.

Range

Another important question is the range that you get on the Mach-E. Here we have it broken down by the individual trim levels:

Select Standard Range (SR) AWD: 210 miles
Premium SR AWD: 210 miles
Premium SR AWD: 270 miles
First Edition (EW AWD): 270 miles
California Route 1 (EW RWD): 300 miles
GT (EW AWD): 235 miles